We may have just surpassed cuffing season, but we haven't escaped the focus on love just yet… It's wedding season! Whether you're trying on your 27th dress or ready to tie the knot, these 22 wedding hairstyles will give you some inspiration for the special day.
Spoiler Alert: This season is all about soft curls, braids, hair pieces, and entire bottles of hairspray.
Baby's Breath Bride
How sweet is this wedding style? It shouts romance and isn't all that hard to accomplish. After curling hair with a 1.25-inch wand, loosely pin half of it up and place a Baby's Breath hairpiecealong the curls.
Braided Chignon
Ah, the timeless chignon.
For the girl who hates wearing her hair up, but doesn't want to deal with her curls falling flat on her special day — this one's for you. Because of how loose this updo is, it's incredibly feminine and romantic.
Mermaid Waves
Posted on Instagram by @morganparks901
This darling 'do is incredibly elegant. Its simplicity couples beautifully with any dress, and the jeweled pins add an extra flare.
Tip for achieving this wedding look: using the right product is key. Before blow-drying, use a heat protectant and oil treatment. Then, curl with a 1.5-inch iron, wrapping around the barrel (not using the clip). Spritz with a light hairspray, and once it sets, run through with a wide tooth comb to loosen waves.
Bridal Blowout
Why does everyone think brides have to pull their hair back on the big day? This look is a total knockout and is a modern twist on classic 20s curls.
Loose Braid
Pair this thick, loose braid with an open back dress and jaws will hit the floor. Plus, that accent hairpiece adds the perfect amount of glam.
Side Swept Fishtail
We're fawning over these voluminous curls. They're sexy, but sweet and show off thick locks (or faux-thick locks if you rock extensions).
Carefree Updo
Pull your tresses up like this, and your new hubby will swoon.
Bouncy Curls
A little hair poof never hurt anybody. These bouncy curls look absolutely elegant.
Timeless Low Bun
Sweep those locks into a low bun to complement a strapless dress. We're totally picturing this with teardrop earrings, too.
Untied Curly Bun
Brighten up whimsical curls with a flower hairpiece. How sweet would this look at an outdoor wedding?
Natural Curls
Somebody had to do it, and we're so glad it was her. If your natural hair looks like this, please show it off. We asked nicely.
Beachy Braid
Posted on Instagram by @morganparks901
This beachy braid is ideal for late spring and summer weddings. Pair it will a blush pink, light blue, or nude bridesmaids dress for an angelic-looking bridal party…We can picture those Instagram pics already.
Fancy Fishtail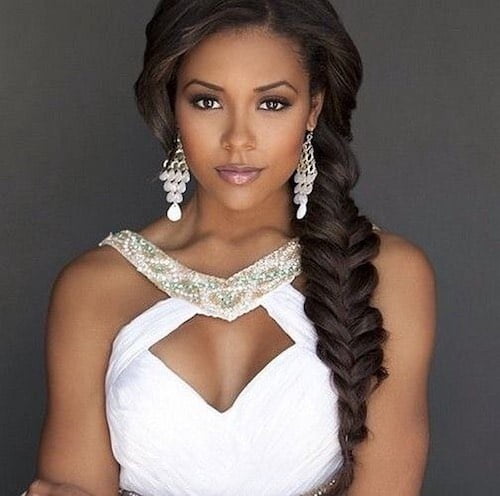 Speaking of braids… Here's an elegant twist on the side-fishtail. The perfectly asymmetrical style gives just enough attention to statement jewelry and detailed necklines.
Gorgeous Half-Up
Simple and stunning! The curls can be achieved with a 1.5-inch wand (we love Hot Tools). Then, pin half the hair up and accent with a jeweled clip.
Multi-Braid
It's the year of braids — simple ones, intricate ones, Dutch ones, and French ones. And, in this braid's case, a little bit of everything.
Flower Crown
2018 is welcoming hair pieces like this one. Adding a sweet, romantic flair to voluminous waves is one of our favorite looks of the season.
Spunky Pony
This one's for the edgy brides(maids). By curling the hair all over, teasing the crown and brushing it back into a pony, you're set to dance the night away with your bride tribe.
Waterfall Curls
Posted on Instagram by @hairandbeautybybru
These waterfall curls look best on ladies with thick locks, but the same voluminous style can be replicated with clip-in extensions for the special day.
Simple Waves
Simplistic styles will be huge this wedding season, and we're loving this effortless twist for the classic bride.
Twisted Pony
Whoever said ponies aren't for formal events? Dress it up with loose twists and soft waves for a fun, flirty look.
Bridal Bouffant
Posted on Instagram by @skyecoutinho
This wedding hairstyle may be pageant-esque, but there's something fun about it. For the glam-loving bride, invest in some volumizing hair extensions, a teasing comb, and lots of hairspray.
Classic Bun
Posted on Instagram by @anabelenapen
A sleek dress paired with this classic bun will melt hearts on the big day. We're thinking lace.
Slicked Back Bun
Posted on Instagram by @weddingdressmagazine
This daring, slicked-back hairstyle follows the latest trends (hair pieces and wet hair look) and gives you a chance to show off bolder makeup, your dress' intricate neckline, and a stunning jeweled headband or flower crown.
Princess Bun
Messy buns in the morning, messy buns in the evening, messy buns at your wedding — we love 'em anytime. Especially when they're classed up with curls and a dainty hairpiece. To check out other variations of messy buns that might inspire your wedding day hairstyle, check out 7 Super Easy Ways to Get the Perfect Messy Bun.